Yeah, Thanks Chris!:
Published Saturday, February 05, 2005 by About the Author |
E-mail this post

---
He's getting good at this Liz-o-vation business!

Although, unfortunately, he seems to have completely bypassed Confessions Of A Teenage Drama Queen and the brilliant 'Drama Queen (That Girl)' (the best Pointless Song At The End Of A Film since 'Hey Now (This Is What Dreams Are Made Of)' - it's not an accolade I hand out lightly, either) in favour of The Parent Trap, ie. the worst film EVER, according to Crystal. Silly Chris!

The Official Top Five Lindsay Lohan 'Productions':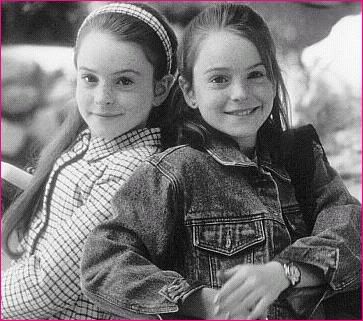 'Double the Lohan' - Jonny Affleck, comedy genius.

1. Mean Girls - obviously.
2. The Speak cover art.
3. 'Drama Queen (That Girl)'.
4. Freaky Friday.
5. Speak.

Oh, God; I think I'm beginning to prefer The Lohan to Lizzie The Duff.