STU-PID
Published Saturday, February 05, 2005 by Crystal Gallagher |
E-mail this post

---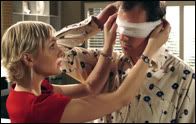 Me talking about Neighbours objectively, and actually admitting that the situations and characters aren't, you know, actually real is sort of like breaking the forth wall, but THAT'S WHAT IT'S COME TO.

It's really one of the worst things on TV at the moment, and it's largely thanks to that character Stu. On Thursday night I couldn't even pretend to like him, after he boarded the bonza bus and took a trip to another planet by pretending to be able to see when he was still BLIND.

I can't even properly convey the reactions of both myself and the other members of the Gallagher-Starr household, as Our Hero decided to make that stupid comment ('Oh Stu...you idiot', 'How can someone PRETEND not to be blind? '...How's he going to drive home?')

The worst part was that the writers thought this could be kept up for more than 30 seconds! How DID they drive home from Karl's? Didn't Syndi notice him BANGING INTO THINGS, before he finally admitted he couldn't see? For a moment there, I thought this was actually going to go on for a while.

THANK GOD it didn't. And yet still, the Stu Is Blind storyline is just about as bad as the Stu Pretends He Isn't Blind storyline. Last night I literally went shopping for cushions instead of watching, so I've no idea if this was 'resolved' any further.