MY TOP 5 LINDSAY LOHAN MUSICAL MOMENTS:
Published Sunday, February 06, 2005 by Crystal Gallagher |
E-mail this post

---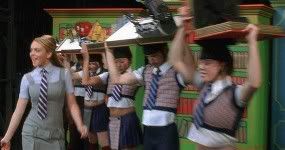 1. Her performance of "Changes" at the end of Confessions Of A Teenage Drama Queen.



2. Pretending to be Jamie Lee Curtis pretending to be Keith Richards during Freaky Friday. "I just thought we could play in the key of rock!"

3. "Over" (BEST SONG EVER)

4. "That Girl"

5. "First"