Detective Stu, Case #108 - The Mystery Of The Repeat Oasis Track
Published Friday, May 06, 2005 by Unknown |
E-mail this post

---
...So travel down the Road Of Success,
Come to the detective who knows best...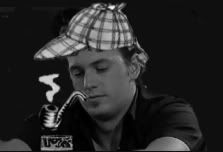 It's Detective Stu, that's who!

Now, if it's one thing Oasis are NOT known for, it's ripping off old songs, calling them something else, and trying to pass them off as something new. No no no no no. That's just not their style at all. Which is why I got such a rude shock last night when I heard a track off the new album

I've had to pay a visit to Detective Stu to try to sort it all out!

Crystal: Hi Stu!
Stu: G'day! What seems to be the problem? Is there a mystery that needs solving?
Crystal: Yes! Desperately!
Stu: Tell me all the facts then.
Crystal: WELL. Yesterday, Hollywood superstar Ben Affleck sent me an mp3 of a new Oasis song, promising that it would be my new BEST SONG EVER. It was allegedly called "Let There Be Love".
Stu: Well that sounds fantastic. What was the problem?
Crystal: I already had it! I've had it for years! Except it was called "It's A Crime"!
Stu: It IS a crime!!! Possibly.
Crystal: Oh Stu, it definitely is. I was promised a fantastic new song, and I got one that is five years old, just with a different title!
Stu: Well, it's definitely not Oasis's fault. They would never repeat themselves, or serve up something that sounds exactly like something they've released before.
Crystal: I know Stu, they're not to blame. So who IS?
Stu: Well, I have my number one suspect...




Stu: I suspect he's doubled the song.
Crystal: Stu...I think you may have just solved the case. THANK YOU.
Stu: It's another mystery solved!