Moderately Amusing Neighbours Moment Appreciation Mania
Published Saturday, June 04, 2005 by Unknown |
E-mail this post

---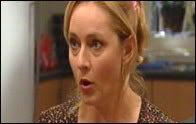 My Neighbours viewing has been so random lately...I've missed Our Stu's engagement, and I don't even want to KNOW what is going on in that Lyn/Bobby/Susan love triangle.

I did like this bit last night though.

(Bree has written a list of things Janelle does wrong as a mother)

Bree: Number 32 (something about Mr Whippy)
Janelle: Well I'm not bloody Cher! I can't turn back time!
Bree: Funny you should mention that. Number 33 - "Cher is not classical music."

Also, according to Neighbours.com, on Monday "Sky fails dismally as a secret agent." Can you just IMAGINE the movie!...