It's not confidential!
Published Friday, May 27, 2005 by Unknown |
E-mail this post

---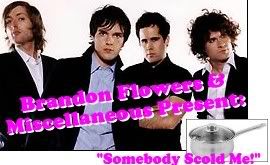 "I've never really had a taste of tea. I've probably only had about 5 cups of tea in my whole life"
- Brandon Flowers
Just LOOK at the dedication and example-setting Brandon Flowers is showing to us all. He is so committed to not spilling hot liquids, that he does not even TEMPT FATE.
Meanwhile!:
We keep forgetting to mention that according to the source of all things worth knowing,
Fop
, Missy Eliot is releasing an album called "The Cookbook"!
!!!