So we're comin' out of the kitchen, cos there's something we forgot to say to you!
Published Monday, May 16, 2005 by Unknown |
E-mail this post

---
And that's - sisters are doing it for themselves!

No it's not. It's - Summer is leaving Neighbours!!!!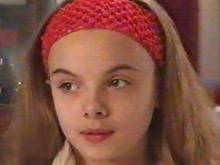 Probably our ALL TIME favourite great joke was Cfbgoespop's Summer (Hoyland) Edition. Seriously, that quite nearly caused a death over here at Gallagher-Starr towers.

And just for that - we don't want Summer to leave! Sure, we might joke about Boyd killing her, and we KNOW she is one of the most hated characters ever, but lately she really hasn't been that bad! Plus - how on earth will they write her out?? Summer time will quite literally be over.

*****************

In other cross blog love-ins, we are returning the praise to our Non-Identical Blog Twins Fop, who are enjoying our kitchen antics, it seems. We enjoy everything they do as well! Especially their recent post at the Ausculture Big Brother blog!

Apparently though, some Hollywood superstars think there are better things we could be writing about than rock star chefs!

Better things to write about than people who are singers first, cooks second, and probably entertainers third? I don't think so! You will never find another better bunch of celebrity chefs than what we have here. Ones who are basically just chilled out entertainers. I tell them - thanks for the great jokes!

And thus concludes the David Brent quoting and linking for today.