Somebody Scold Me - Continued...
Published Friday, May 13, 2005 by Unknown |
E-mail this post

---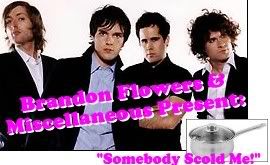 B.Flow: Welcome back! Boy, that was a long ad break, wasn't it? In the, er...day that it took, we've developed a bit of a problem down here at Somebody Scold Me. In fact, you might even say we're in a bit of a 'pickle'!

The problem is, with our name. See, if we continue on with Somebody Scold Me, we'll naturally be changing our name to The Spillers. BUT - there's also the option of changing it to The Grillers, and embarking on a BBQ cooking spin-off.

WHICH WILL WE CHOOSE? The answer after the break!