It's Not Confidential, It's Got Potential
Published Thursday, May 12, 2005 by Crystal Gallagher |
E-mail this post

---
Ready let's roll onto something new!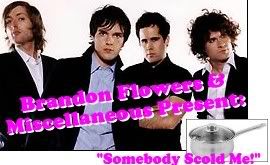 'Somebody told me, that you had a burnt hand...'

B.Flow: Well out of all the proposed segments on I Predict A Sprite, ours was by far the most popular! So popular in fact, that we've got our own kitchen health and saftey show! "Somebody Scold Me!"

The Kaiser Chiefs might be great cooks, but there's one thing they've ignored when it comes to food preparation, and that is SAFETY FIRST. ALWAYS.

But that's the one thing we don't ignore! In fact - it's the one thing we know more about than anything else! Most of all, of course, we care about how to avoid being scolded by boiling water.

Ronnie: You might even say we're in a 'Hot Fuss' about stove saftey!

B.Flow: Hahaha. Quite.

Ronnie: So, what do we have coming up on today's show?

B.Flow: Well, amongst all the warnings about the consequences of spilling hot water we have the following fun (and educational!) segments:


Mr Knifeside - The proper way to handle knives! (Tip: Always grip it by the handle)

Tile Like You Mean It - How to keep your kitchen surfaces in top condition to avoid germs and contamination!

All These Bins That I've Done - Separating your recyclables from your scraps and compost!

Somebody Fold Me - How to keep your teatowels and napkins neat and tidy!

B. Flow: But that's all coming up after the break!


Somebody Scold Me will continue shortly. Maybe.