You've gotta make choices, be wrong or right
Published Sunday, May 15, 2005 by Unknown |
E-mail this post

---
The schedule is just about JAMMED PACKED down here at Love Pavilion TV, but...

We've recently learned that Delta Goodrem is: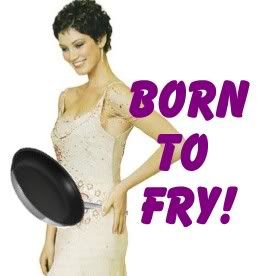 So how could we resist giving her her very own cooking show?!

Take it away D!

Delta: G'day everyone! Welcome to Born To Fry! The show where...love is on the menu! That's right, because today I have my boyfriend Brian McFadden in, to whip up some romance! Hi Brian!

Brian: Hey Delta! So, what can I do to help out in the kitchen?

Delta: First of all, I'd like you to peel these apples for me...is that alright?

Brian: Sure! After all, that's what's "Peel To Me!"

Delta: Great! And after that, I need to you prepare some pears for me, if you can.

Brian: Definitely! You might even say I'll 'Pear It Again!'


Network Executive: THIS IS AXED.