Modern Tribute Bands Are Rubbish
Published Friday, April 29, 2005 by Crystal Gallagher |
E-mail this post

---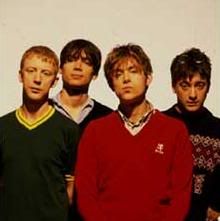 (Old school!)

I think I spoke too soon yesterday, because straight after I wrote that I'd love the Kaiser Chefs forever, I suddenly became quite sick of them. But that's what happens when you play an album 30 times in one week I guess.

Anyway, for a total change of pace I thought I'd play some Blur records. So, I've been listening to Modern Life Is Rubbish, Parklife and the Best Of. AND...

...you know, compared to the original, Kaiser Chefs are a bit crap. It's like I've been watching Home And Away for 2 weeks, and I've suddenly remembered that Neighbours is still on.

Maybe the Chefs should just stick to cooking and drinking Sprite...