It's Show Day!
Published Tuesday, March 01, 2005 by Unknown |
E-mail this post

---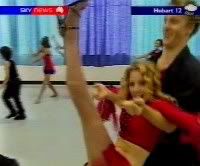 And the tension is building all around the country, as our girl prepares to take to the floor tonight!

Now, as I suggested yesterday in the Nikki Supporter's Guide, I've been getting to work on my Noise Next Door style series of novels on Nikki Webster. HAVE YOU? Send in your ideas if you have, and we'll get to work on a publishing deal. No, it's not four years after a market for this has clearly passed. It's still totally what all the kids will want.

Now, my main challenge was trying to come up with a plot-line that would allow the novels to be entitled the high-lariously punned "Webster's Dictionary". The best I could come up with was a storyline where Nikki starts work at a Scrabble factory. This is quite frankly the most terrible idea ever, so it was 'back to the drawing board' on that one.

What we need to do instead, is instigate a "plot" that Cameron Adams has predicted for several years - "Wait until she turns 18, releases an indie album and insists on being called 'Nicole' ".

Yes - just WAIT. Or, alternatively...READ ABOUT IT.

More on this idea as it develops...