"She's Dancing In Chicago Channel 7 Studios"
Published Thursday, February 24, 2005 by Crystal Gallagher |
E-mail this post

---
Fop yesterday identified my extreme liking for a bit of Nikki Webster, and given her current status as public enemy number one, we'd like to announce the joint Nikki Webster rally ON.

First of all, I'd like to fully come out. I've never admitted quite HOW much I love her, mostly because Cameron detests her.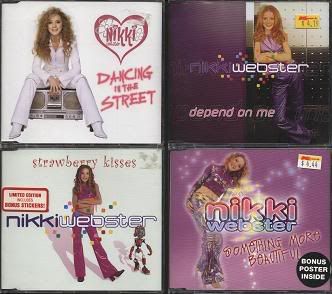 My Nikki Webster Collection:

Albums:
Follow Your Heart
Bliss - Bonus 2 disc edition

Singles:
Strawberry Kisses
Depend On Me
Something More Beautiful
Dancing In The Street

My favourite track of hers is Dancing In The Street - Movin' Drivin' Shakin' Remix. It's brilliant.

Anyway. This is ONLY the beginning, as Debra Conway once said. It's Nikki time!