TWINS
Published Friday, February 25, 2005 by Unknown |
E-mail this post

---
LOOK!: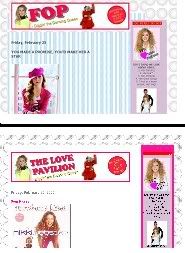 Us and Fop are twins! Nikki Webster Twins.

To get a heads up in the competitive Liz-O-Vations business, Joel has come out with a brilliant 2 For 1 offer - Just find another blog who wants to look EXACTLY THE SAME AS YOU, and Joel will do it half price!

Most importantly though - the Nikki Webster To Win "Dancing With The Stars" Campaign starts right here, right now.