Being A Nikki Webster Dancing With The Stars Supporter:
Your Weekly Guide & Timetable
Published Monday, February 28, 2005 by Crystal Gallagher |
E-mail this post

---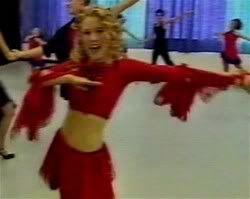 MONDAY: Preparation
Spend today preparing, considering, and bracing yourself for tomorrow's show. You might like to start work on your home-made signs, and start sending a few casual prayers Nikki's way.

TUESDAY: SHOW DAY

Early Morning:1. Make sure you've had plenty of sleep the night before. Start the day with a hearty breakfast.
2. Program/Load your walkman/iPod/discman/computer/stereo with the 'Nikki Inspirational Dance-Mix'
RECOMMENDED:

Let's Dance

I Wanna Dance With Somebody

Don't Give Up

You Make Me Feel Like Dancing

The Beat Of Life

This Is How We Do It

Dancing In The Street
LISTEN THROUGHOUT THE DAY ON CONSTANT REPEAT.

Late Morning: By now you will be experiencing some strong feelings of excitement and anticipation. Channel your energy into completing your "Go Nikki" signs, leaving Nikki a message of support, or outlining your Noise Next Door Style Nikki novel.

Midday: Break for lunch, and prayers.

Early Afternoon: After quiet prayers, make your way down to your local Church of Cameron to make an offering: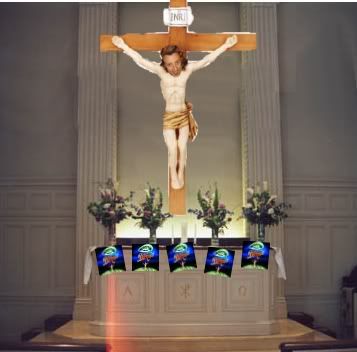 (He used to like The Darkness CDs, but these days Scissor Sisters albums may be more effective.)
Ask that Nikki have a safe, peaceful and prosperous dance this evening. And for an horrible accident to befall Holly Brisley.

Late Afternoon: Quit school/work/other EARLY, and return home to complete the day's preparations. Decorating the house will of course be a top priority. Put the TV onto Channel 7 and DO NOT CHANGE IT. YOU CAN NEVER BE TOO CAREFUl. (Anyway, the Big Arvo will be on around this time and you will enjoy that.)

5:30 - 6:00 As you will Deal Or No Deal!

Dinner: Something healthy and nutritious is a must here. You need to be at your very best for viewing time. Of course, it's a very strong possibility that you will be too excited to eat, but try.

7:00 - 7:30 It will seem like Home & Away is taking an eternity to finish, but any time Bec Cartright is on screen, try to channel her energy and winning spirit into Nikki. Concentrate very hard and you can achieve this.

7:30 SHOW TIME


9:00 God willing, Nikki has not been voted out. But she HAS delivered a great dance, and now the hard work really begins. Retreat to bed.


WEDNESDAY: The Aftermath

Discuss/dissect the various aspects of the previous night's performance - the dress, the hair, the dance, the magic. You'll be too dazzled to do much else, but make sure you begin VOTING.


THURSDAY: The Holy Day

Pray, pray, pray. And read HiT. (And vote!)


FRIDAY: Promotion

We're heading towards the weekend, but make sure the foremost thing in everyone's mind is voting for Nikki Webster in Dancing With The Stars! Make posters, and put them up! STOP AT NOTHING TO GET THE VOTES!

SATURDAY & SUNDAY:

This is the time to forget the competition for a while, and to just enjoy Nikki as she is meant to be enjoyed. Listen to her music, and just relax and have a great time.

MONDAY: Time to start all over again!