Old Feeling, New Beginning
Published Monday, February 21, 2005 by Crystal Gallagher |
E-mail this post

---
Seeing as my favourite new band and song at the moment are Athlete and "Wires", I thought I'd do a little poking around into lead singer's Joel Pott's other business pursuits.

And lo and behold, would you believe it! He owns his very own Liz-O-Vations company!: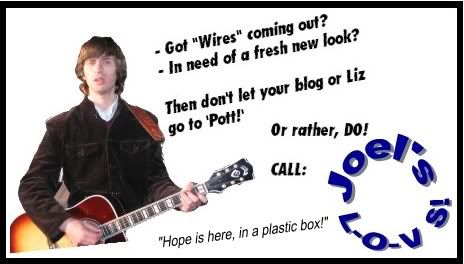 At the risk of offending Chris, I thought we'd give Joel a go. When he popped round to do a "quote", we got to chatting, and I discovered that Joel's two most favourite things are:

a) Geri Halliwell
b) The color grey

Thus, I "commissioned" a Look At Me L-O-V. And I'm pleased to say that Joel has "delivered the goods!" It's not QUITE up to Chris's standards, but it's getting there. Thanks Joel!