*New Segment* - "CLASSIC CAMERON!"
Published Monday, February 21, 2005 by Crystal Gallagher |
E-mail this post

---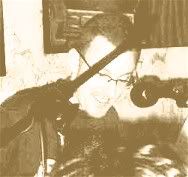 Every day for the rest of the week I have a special surprise for you!! - A classic Cameron review from the Olden Days!

This first one is from his days at Beat magazine, or as I like to call it "The Old Testament". It's from 1993, and is a review of Rob Clarkson's 'Off Your Faith' album (Who?, and What?!)


'Off Your Faith' Review
By Cameron Adams, Beat Magazine, June 1993



'Forget Rik, Rob Clarkson is the new people's poet. This man does for words what Sally Jessy Raphael does for people visited by unfriendly ghosts. And he writes good tunes too.

Rob writes about life, love and Uncanny X-Men. He also writes about phlegm, South Yarra, MTV, diaphragms, Lan Choo Tea, Hitler, nightclub bouncers, Telecom, speed, Joe Orton and bursting bladders. He is kind of like a 90's version of Skyhooks, except not crap.

Rob has a healthy interest in life, and not just his own. He is obviously a square-eyed TV fiend and a practicing lyrical voyeur, soaking up situations for inspiration. When it comes to his own affairs, whether it is his foot or someone elses tongue in his mouth, he lets you know without fail. All of which means word of Rob rings true, he is never pretentious or oblique like modern poetry can be.

And he is a comedian in the same way that Henry Rollins in story-telling mode is. Rob weaves jokes into his songs for light relief (Fools Fall Down) or just comic value (Didn't I See You In?), roller blading on that line between clever-funny and clever-smart-arse. If you think rap is word-heavy, try Rob on for size. He fills up every space with his urban pearls of wisdom, and you will love him for it. Rob not only prints the lyrics here, but amends them and justifies himself with the benefit of hindsight.

The Billy Bragg connection is obvious, just by virtue of arming himself with little else but a guitar and some words, but for the moment Rob's politics are of the personal variety. Musically, Off Your Faith takes the simple acoustic splendour of the Beautiful Girls and Beautiful Boys EP and supplements it with some well-placed guest musicians and voices.

Helping out are Mark Wallace (Weddings Parties Anything) with his trademark piano accordion on I'm Not Sleeping(very well at all), making Rob sound like he's fronting the Weddoes. Whose Son, John gets the full band treatment, and Tlot Tlot provide a Pet Shop Boysation of live favourite and classic-to-be The Sphinx, The Parthenon and Me proving that Rob is no luddite. He even samples the Benny Hill Show theme on the sobering Fools Fall Down.

Yet, as songs like The Human Equivalent of Penicillin resoundingly prove, Rob needs nothing but a few chords and the truth to entertain. Let Off Your Faith be your friend, listen to it, take care of it, take it to parties and you will find yourself submitting to the powerful force that is Mr Rob Clarkson before too long at all.' (8/10)
Look, I admit I have NO idea who he's reviewing, or what he's talking about half the time there, but that WAS an excellent review. And it's 12 years old! Cam has had the talent for ages. Plus -
8/10
- that's 4 Stars in the new language! If I ever find this album, I will be buying it.
After all:
He's pop music's answer to Sally Jesse Raphael!

He is (kind of!) like a 90's version of Skyhooks!

The Billy Bragg connection is obvious! (Of course!)

More of these still to come!