FEEL GOOD INC - Unveiled
Published Thursday, May 19, 2005 by Unknown |
E-mail this post

---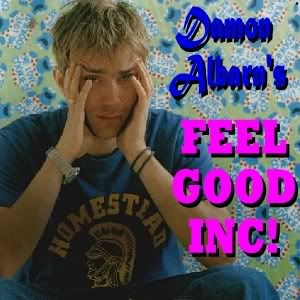 Imagine a cross between the Eurovision Song Contest and the most fantastic office building you've ever worked in. - You've just imagined
Feel Good Inc.
, a new multi-national production company designed and managed by
Damon Albarn
.
Feel Good Inc.
is unique in that it's the first ever Love Pavilion & Lizjournal COMPANY. Well...apart from all those Lizovation ones. But they were more like small businesses.
Feel Good Inc.
is like what Chris Martin's Lizovations would be like if it not only redesigned templates, but
changed the world
.
At
Feel Good Inc
what is produced, marketed and sold is feel-good family fun. With Damon at the helm though, problems are sure to arise. Not only will he have to put up with everyone in the world annoying him, he has to battle his own tendencies towards grumpiness and bitterness. The irony sometimes is, that the more Feel Good stuff Damon produces, the worse he feels. But he's determined to get the job done!
And first he'll need some staff. We mentioned Eurovision at the top of the post, and we weren't joking! Because Vice-President of Feel Good Inc is none other than 2003 Eurovision contestant Lou!:
You might remember her for her song and life philosophy
"Let's Get Happy!"
She'll be perfect down at the company! Anytime Damon loses his vision, she'll be there to remind him "Let's get happy and let's be friends"!
And that's just the START of it...
(For more information, see
Lizjournal
)