Pop Detectives With Stu (And Special Celebrity Guest Star!)
Published Monday, April 04, 2005 by Unknown |
E-mail this post

---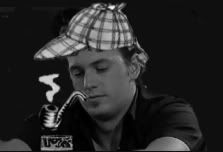 Crystal: So Stu...did you find out where Noel hid all the good songs?
Stu: Yes, I sure did! I put my ears to work and solved the mystery. It turns out that Noel left them all behind 10 years ago!
Crystal: Well Stu, are you going to retrieve them then and SAVE THE WORLD OF MUSIC?!
Stu: No...I'm a detective, not some sort of time-traveling super scientist
Crystal: Oooh...but I think I know who IS...
Stu: That's right! There's only one person for the job!:




Stu: Time Traveling Flick!
Crystal: Woohoo!
Stu: You sound excited.
Crystal: I've missed her dinosaur-lovin' ways.

Stu: So Flick - we've got a special mission for you! Do you think you could go back to 1995 and save Noel?




Flick: Well...yeah. But, didn't I end up choosing Ben during the season finale? Messing around with Noel only landed me in a mental ward, if I remember correctly...
Crystal: Not THAT Noel! Oh lord...Stu, couldn't we get someone a little less stupid?
Stu: No-one else understands the physics of time travel quite as well, I'm afraid.
Crystal: Oh well then, I guess Flick it is then. Good luck girl!

Time Traveling Pop Detectives With Stu & Flick to be continued...