Do We Need To...
Published Tuesday, March 29, 2005 by Unknown |
E-mail this post

---
...send out Detective Stu to look for Michael?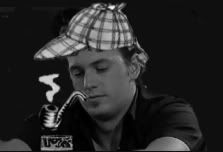 Let's hit the theme song!:

'So, travel down the Road of Success,
come to the detective who knows best,
If there's a crime then he won't rest!
It's Detective Stu
That's who'

He won't really be able to look for him, necessarily, but you know, keep your ears open Stu!