And They Say That Pop Is Dead...:
Published Monday, March 21, 2005 by About the Author |
E-mail this post

---
At the risk of being smote down by Cameron Adams/Gods' very own personal Jesus, I'm going to proclaim we have a new Best Song EVER in our midst...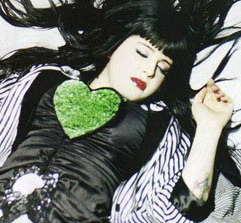 Kelly Osbourne - 'One Word'.

Two words: Fucking. Hell.

Forget everything you ever knew about Kelly Osbourne.

Because she's decided that she's had it with punk-pop, and she's now going to try her hand at being Gwen Stefani, albeit with ten times more conviction than Gwen Stefani could ever manage.

This is the kind of fuzzy, 80s-inspired dance music Kelly should have been doing all along - the cover of 'Sunglasses' sledge-hammered onto the live DVD was every bit as fabulous as you'd imagine it to be, and is a good starting point for anyone considering backing her when she makes her second bid at pop superstardom - and I can't tell you how excited I am for the new album (she's calling it Sleeping in the Nothing - it's a tribute to The Never-Ending Story or drug addiction or something - and it's out in June).