What Will The (World's Biggest) Neighbours (Fan) Say?
Published Thursday, February 10, 2005 by Crystal Gallagher |
E-mail this post

---


Well, I say - Neighbours is in terrible trouble. It currently has four storylines operating beneath the critical Life Mechanics level. The Life Mechanics level is the point at which anything lower should not be allowed on the show. They are:


Carmilla's Mum's "Super Conner Challenges"

So bad. I don't even know what's going on here. Nor do I want to.


Summer "Rocky" Hoyland

Summer punching another kid out WOULD have been hilarious, if it wasn't so completely retarded.


Boyd: Just For The Record

If tonight's previews are to be believed, Boyd has developed a random eating disorder. Unless he's going through George Michael's bin looking for cake by the week's end, I can't see THIS being any good (whatsoever).


The end of "For Her" Magazine

WHO CARES?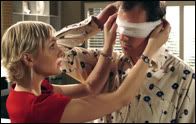 And worst of all, Stu has become a proper blind person, with glasses and a cane and everything. The only good bit was last night when he tried (though unfortunately failed) to bash Conner with it.

The only thing keeping this show watchable is the Paul and Izzy storyline. It's operating at the critical 'Karl & Sarah' level, at which point all crap storylines are counterbalanced by it's excellence.