ULTIMATE SHOWDOWN
Published Thursday, February 10, 2005 by Crystal Gallagher |
E-mail this post

---
I honestly can't decide whether Over or Sometimes You Can't Make It On Your Own is my favourite song of the year so far.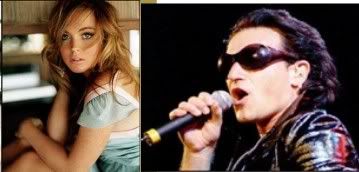 I mean, look at the facts - we have two great ballads, and two legends performing them. It is DEAD EVEN. It might have come down to one of my highly certified '____ VS ____' competitions. In this case, Bono VS Lindsay: Who Do I Love More?

STOP!:

There has just been a crucial development here. RIGHT THEN, when I typed 'Bono' I accidentally typed 'Bonza', probably because I am so used to typing that word. Which just totally made me realise how similar the words are. And anyone who is LITERALLY 3/4 bonza should beat the other person hands down.

But that still doesn't prove that 'Sometimes...' is better than 'Over. Oh, maybe it does. Who knows? They are BOTH GREAT. And now I am more confused than ever.