Top 10 Most Played Songs On My iPod UPDATE
Published Saturday, April 23, 2005 by Unknown |
E-mail this post

---
Remember last time it was an all Killers affair, and I promised to restore the balance? Well - I'm pleased to announce there's been a Kaiser Chiefs invasion! (And some songs that are by NEITHER, oh my goodness.)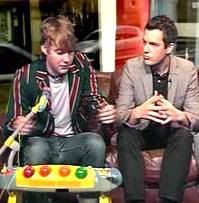 (Ruling my Top 10 Together!)

1. All These Things That I've Done - The Killers
2. Mr Brightside - The Killers
3. Everyday I Love You Less And Less - Kaiser Chiefs
4. A Pessimist Is Never Disappointed - The Audience
5. Somebody Told Me - The Killers
6. 80s Rockstar - The Weekend
7. Giving You Up - Kylie Minogue
8. Negotiate With Love - Rachel Stevens
9. I Predict A Riot - Kaiser Chiefs
10. Modern Way - Kaiser Chiefs


Meanwhile...even though we've already BEEN The Indie Pavilion, remember Michael, I'm more than happy to give it a "re-load". Shall I book Chris in? That said, I'm nowhere near done with Extreme Chiefs Appreciation Mania, and am ready and rearing to roll into week two...