It's Time For The 2005 Season Premiere Of...
Damon Albarn's Harbor!
Published Thursday, April 21, 2005 by Crystal Gallagher |
E-mail this post

---


"Some days we're starting off new in 2005!
With a fresh new vibe!
Yeah we're feeling alright,
Down at Damon Albarn's Harbour!"

Damon: Hello children! It's great to be back for a fresh new season of Damon Albarn's Harbor! This year it's all about HAPPINESS - I've put all my anger and bitterness behind me, and I'm ready for some fun!

To celebrate our first episode back, I think we need a cake! And I've got some special guest chefs in to help me...The Kaiser CHEFS!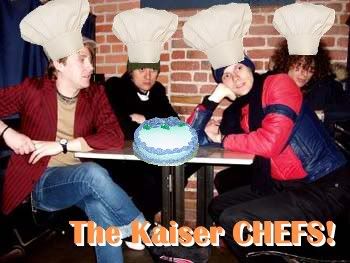 What a beautiful blue cake they've whipped up for us! Hello guys, welcome to the studio!

Kaiser Chiefs: Hello Damon! Great to be here!
Damon: And great to have you! Now Ricky, can you talk us through the recipe for how to make this fantastic cake?
Ricky: Well, it's basically just your average sponge, dyed a terrifying shade of blue.
Damon: Brilliant!
Ricky: It sure is!

Damon: Now, let's get down to business. I hear you're the lead singer in a band, as well as a great cook...
Ricky: Well, yeah...
Damon: Now, what band would you say you most sound like?
Ricky: Well, we sound a bit like Blur, actually!
Damon: A bit? Try a whole bloody lot. You know, I'm in a band that sounds a lot like Blur too. Oh that's right, I AM in Blur.
Ricky: ...ok.
Damon: I hope you aren't thinking of hosting a fantastic children's variety show from a harbor, are you?
Ricky: No...I was actually thinking about starting up a lizovations company though.
Damon: Oh, I'm sorry to tell you this, but only singers who either ARE, or sound like the lead singer of Coldplay can do that.
Ricky: Oh. Well, who can host TV shows from harbors then?
Damon: You have to sound like the lead singer from Blur, or be Ben Cousins. I think it's pretty obvious why.
Ricky: Oh definitely. So, I CAN host a brilliant kid's television show from a harbor then?
Damon: NO YOU FUCKING CAN'T! WHO DO YOU THINK YOU ARE?
Ricky: Sorry Damon.
Damon: That's alright. I think we'd better go to a break. Thanks for coming in.
Ricky: Thanks for having us.


Damon Albarn's Harbour returns next week, for another fun packed episode!