A Bonza Picture
Published Friday, April 22, 2005 by Crystal Gallagher |
E-mail this post

---
From last week's/this week's (depending on where you live) NME.

I've had to un-Blutak this from my wall though, and it really must be returned PRONTO, in case I lose it and never again find pictorial evidence for this meeting of the minds: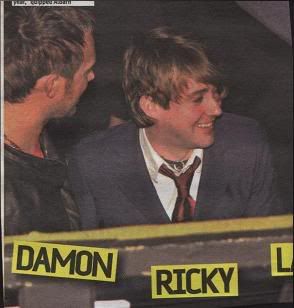 Yay - buddies! Not at all enemies like we insinuated on yesterday's episode of Damon Albarn's Harbor.

Meanwhile: I think the "Kaiser Chefs" will be back for their very own special Love Pavilion segment, cooking up a storm! Move over Jamie's School Dinners, The Chefs will be re-educating the kids one blue cake at a time, teaching them:

The nutritional value of blue food dye

And why ugly is always better!