Move Over, Cameron Adams
Published Saturday, April 16, 2005 by Crystal Gallagher |
E-mail this post

---
Do you remember back in the era of Sky's Magical Mystery Tour I was going to make a magazine? And then I never did it? WELL - I've finally gotten around to it! It's just a fanzine, and it's literally only two pages long, but this is surely just the beginning of world wide media domination by your's truly.

I'm too shy to show you any of it though, save the front cover and a segment that I think will actually take off here at the Love Pavilion.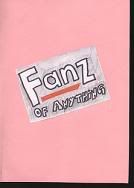 Don't you just love my "appropriation" of the Franz logo? What a FLASH of brilliance, that was.

And, the new LP segment, starting soon...