I Give In
Published Thursday, April 14, 2005 by Crystal Gallagher |
E-mail this post

---
On the week that I vow not to mention A CERTAIN REVIEWER, just LOOK who he goes and puts in the Hot column: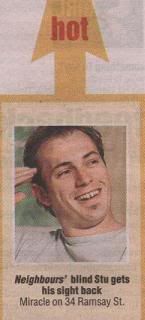 Now that was just TEASING. Anyone, and I mean ANYONE else, and I could have resisted. But fucking Stuart from Neighbours? BLIND STU? I'm just getting it over with and renaming this Cameron's Love Pavilion.

Also, is this the very first time that Cameron and Stu have come together? We have two topics of discussion here at the LP: 1. Cameron Adams & 2. Stu from Neighbours. But they rarely, if ever, cross over. The two have always remained mutually exclusive. But THIS...this could be a start of a whole new era...