Ooooh!
Published Friday, April 08, 2005 by Crystal Gallagher |
E-mail this post

---
I forgot yesterday to mention what was, hands down, the most hilarious moment in Neighbours history:




Dylan going all A Clockwork Orange on the Bishop's house.

Neighbours should really do Stanley Kubrick tributes more often. For instance, now that Boyd is certifiably crazy, I don't think many people would object to him taking an axe to Summer's head.

And we started it all of course, with 2004 - A Stu Odyssey: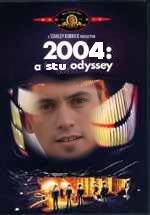 So if this is the 'road' (to sucess!) that Neighbours is going down now, we better get some credit!