Dancing With The Stars Wrap
Published Wednesday, March 02, 2005 by Unknown |
E-mail this post

---
I think I'll pretty much just leave you with my detailed and comprehensive 'note taking':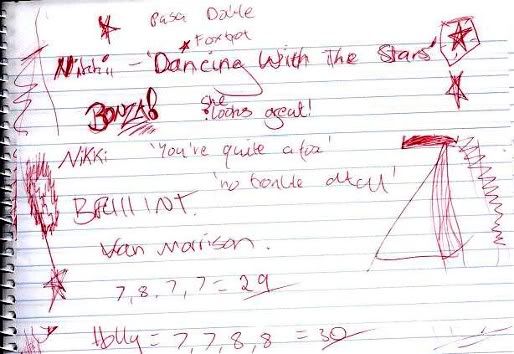 You know, I was just doing my part for the campaign, ready with PEN IN HAND in case Nikki did anything extraordinary, but as I had not one, not two, not three, but FOUR people ask 'What the hell are you doing?', I don't think I'll be taking notes again. It's just not worth the explanations.

Anyway:


She looked great!

BRILLI(A)NT

Van Morrison

Yes - she danced to Van! Another great song choice.

Other Notable, Non-Nikki Moments:


Ginger Spice reference!

Holly declaring herself to have a "Brain Bog" (and isn't that just the half of it)

"Holly Wood" Ha.