The C Factor
Published Sunday, March 06, 2005 by Crystal Gallagher |
E-mail this post

---
Finally!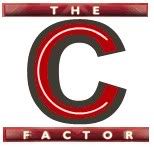 There's been a hammer emergency down at the liz-o-vations factory, so Chris can't be with us on the 'judging panel' today, but Cameron and I are here to debate the merits of the first contestant.




It's Hillary Duff's - Someone's Watching Over Me

Cameron: "This positivity-laden ballad sucks. 1 Star"

Crystal: Cameron, I'm afraid I'm going to have to disagree with you there. You've said it yourself! - It's a 'positivity-laden ballad'! By it's very definition it CANNOT suck.

Cameron: "Diabolical"

Crystal: Cameron! WRONG.

Cameron: RIGHT. I'm sorry, but I can't let her through on the basis of this.

Crystal: Well I say a big fat YES. Based on the following points:


It's a ballad

It's got a great positive message

There's a nice key change

It's Hillary Duff

Cameron: I stand by my firm NO.


We're going to need Chris to break the tie...hurry up with those hammers, Martin! To be continued...