81 Days Till The New Oasis Album Is Released
Published Thursday, March 10, 2005 by Crystal Gallagher |
E-mail this post

---
Too early for a countdown, you say? Well, NO actually, it's the exact right time.

Because, tomorrow we are launching: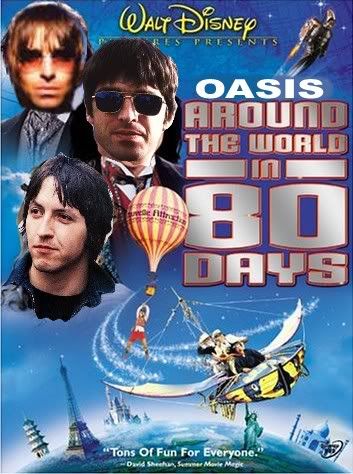 'Tons of fun for everyone!' - INDEED!

It's 'Oasis - Around The World In 80 Days' - An 80 day non-stop Oasis extravaganza!

Don't worry, we're keeping Nikki up until DWTS finishes or she gets voted off, whichever comes sooner. The two things can run side by side - after all, what two things fit together better, when you think about it?

What you can expect this week:


Me dropping the 'Starr' from my name. It's really not the time to be tributing a member of an inferior band. Though...I might tag on Archer-Bell-McCarroll-White, if I feel up to it.


A road test of Noel's Good Old Fashioned Blog-Repair Shop. A compare and contrast with Joel's L-O-Vs and Chris Martin's Lizovations - Where are you getting value for your dollar?


Lists, most likely. Probably some CA wisdom...Wonderwalls...top secret stuff. You know, the usual drill.