First Order Of Business!
Published Thursday, April 17, 2008 by Crystal Gallagher |
E-mail this post

---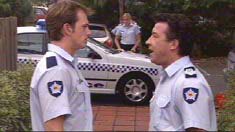 I think the time really is right for Stu's return to Neighbours. His brothers, Ned and ...Steve? are still in the show, which gives him an actual reason to return, so it wouldn't
 be completely random.  And they are constantly mentioning him, although they always 
neglectfully forget to refer to him by his "country name" of Chooka. All the Parkers are from
 the farm, so they really should know that he is called Chooka, not his Erinsborough name of Stu.

Stu will have absolutely no hassels finding work back in Ramsay St, seeing as how he is a policeman, member of the Australian Defence Force, nurse, Life Mechanics leader, and blind person, amongst 50 other career choices he has made.

Ideally of course, we would want to use Stuart to replace his wooden plank of a brother, Ned. An acceptable storyline would probably be one where Ned died and Stu got custody of Mickey. See, this would force Stu back to the street. OF COURSE, no one wants Mickey to stick around, but it would be cruel to kill a 6 year old. ....or WOULD IT.

Perhaps Mickey could find some sort of Time Machine, and transport himself 10 years into the future. We would all know he was safe and sound, but he would not have to be on our TV screens. Stu Parker could of course come back to Ramsy St to solve the Great Mystery! And he would stay to win our hearts.