The Devil's Water It Aint' So Sweet
Published Thursday, April 17, 2008 by Crystal Gallagher |
E-mail this post

---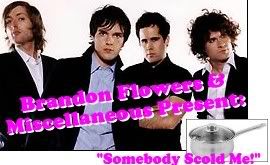 I think I may re-launch the Love Pavilion!

It is all based on the fact that I was thinking about Brandon Flowers, and realised I haven't been campainging for his solo career/disposal of the ugly members in a long time. And I think that is just because I have not had a suitable outlet, such as the LP.

I came by blogger for for a "quick visit" and realised I still have the LP set up in an acceptable layout, so WHY NOT RELAUNCH?