I Need A HiT
Published Thursday, May 26, 2005 by Crystal Gallagher |
E-mail this post

---
After a three week bout of enjoying interviews (and more!) with Chris Martin, Cameron is back!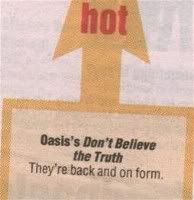 And he's put Oasis in the Hot column! You know why he's done this, don't you? He was upset that last week I said NJ could stay because she loves Oasis. This week Cam has not only said they are 'hot', but put two references to them in the Gorillaz review, and a pic and comment in the charts section. He is trying to win me back, and BOY IS IT WORKING.

Top 5 Bits In HiT This Week:


Oasis - "Hot"

'DON'T CHANGE THE SUBJECT"

Chris Martin bringing up Cruisn' by Gwyneth Paltrow! I still love that song! (And so does Stu.)

A great Gorillaz review

Anti-Gianna comment. GOOD.